MINNEAPOLIS — This time last year Mitch McKee stormed his way through the UWW Freestyle Junior National Championships, racking up four technical falls in the preliminary rounds before pinning Seth Gross, an NCAA Division-I finalist in 2017, in the first period of the finals. It was a dominant performance that showcased McKee's talents as a freestyle wrestler.
This week McKee is heading back to Las Vegas to defend his title as a UWW Junior freestyle national champion. Coming off his freshman season with the Gophers, in which he qualified for the NCAA Division-I National Championships at 133 pounds, McKee is excited to get back on the mat. "I have had some time to rest before this tournament. Sometimes it is hard to rest in the college season because of the busy schedule and weekly competition," he explained. "I am feeling ready to go!"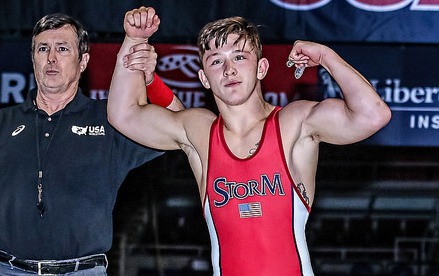 We caught up with McKee to ask him a few questions before he departs for Las Vegas:
Q: What are your thoughts going into the UWW Junior National Championships?
I feel healthy and injury free. I was injured at times during my college season, so it is good to feel healthy again. Mentally, I feel good and I am ready to compete in freestyle again. I have been able to train hard for a few days, and then take a couple of days off to let my body rest.
I will be wrestling at 60 kilograms (132 pounds). This will be my last year competing as a UWW Junior.
At this event, I expect to see a number of former Cadet wrestlers who are now in the Junior Division as well as the veterans of this division. My goal is to win the tournament.
Q: What do you think about the transition this time of year from folkstyle to freestyle?
It is easy for me. It does not seem like a big change for me.
Q: Are there any particular opponents you have been preparing for?
I like to just focus on what I plan to do and how I'm going to work to get into positions where I am more dominant. I spend less time preparing for any particular opponent. I find this is a better approach than planning for a wrestler or what someone else might hope to do. This is a tournament. We don't know who I'll wrestle until it happens. I do not really look at who is in my bracket. I just get myself ready to compete.
Q: What areas of your wrestling have you focused on leading up to this UWW national tournament?
Lately, I have been working on my front-head series, defending leg attacks on the feet and creating go-behind takedowns. I have also been developing offense from my 2-on-1 series. These tend to be high percentage scoring situations for me or positions where I can score a lot of points and dominate a match.
Q: What other wrestling competitions do you plan to enter this spring?
I plan to compete in the World Team Trials, University Nationals in Freestyle & Greco-Roman, and any other UWW Junior events.
Q: Do the University of Minnesota coaches promote the freestyle season?
Yes. Coach Eggum and all of the other Gopher coaches are committed to helping us develop as wrestlers in-and-out of the [NCAA] regular season. These freestyle tournaments are a great opportunity for us to continue to compete and keep high-level matches in our schedule.
Right now, I'm training with other Gopher wrestlers and graduates, such as Tommy Thorn, Zach Sanders and sometimes my brother, Patrick McKee. I have been training with the Minnesota Storm wrestlers as well as the Gopher wrestlers. It's been great and I feel ready for the competition this week.
McKee will compete on April 28 and 29 in Las Vegas, NV. The event will be broadcast LIVE on Flowrestling.org.
For updates from McKee, follow him on Twitter @mmckee133.