Brad Rheingans made two Greco-Roman Olympic teams and wrestled on three World Championship teams during his international career.
The highlight of Rheingans's career came at the 1979 World championships where won a bronze medal at 220 pounds.
He also placed fourth at the 1976 Olympics. Rheingans was a Division II NCAA champion at 190 pounds for North Dakota State in 1975. He was also a Division I All-American the same year as the winners from Division II qualified for the Division I tournament during that era.
Reinghans is an Appleton, Minnesota native and won Minnesota state wrestling championships in 1970 and 1971 at 175 pounds.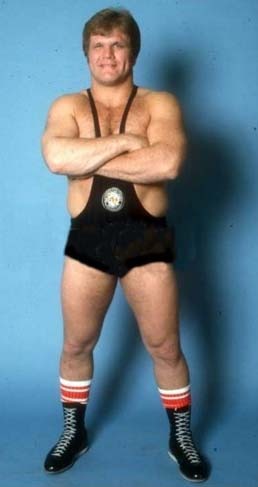 Reinghans made a name for himself after international wrestling in the Minnesota-born American Wrestling Association, a professional circuit owned and operated by another past Minnesota Olympian, Verne Gagne. Reinghans trained several top professional wrestling stars, including Brock Lesnar, John Bradshaw Layfield, Big Van Vader, and the Nasty Boys.
He was inducted into the George Tragos/Lou Thesz Professional Wrestling Hall of Fame in 2004 and is a 2014 inductee into the Alan & Gloria Rice Greco-Roman Hall of Fame.
International Resume
1975 Pan American Games Greco-Roman Team Member (Mexico City, Mexico) 220 pounds Gold Medal
1976 World Cup Freestyle Team Member (Toledo, Ohio) 198 pounds Gold Medal
1976 Olympic Greco-Roman Team Member (Montreal, Canada) 220 pounds
1978 World Greco-Roman Team Member (Mexico City, Mexico) 220 pounds
1979 Pan American Games Greco-Roman Team Member (San Juan, Puerto Rico) 220 pounds Gold Medal
1979 World Greco-Roman Team Member (San Diego, California) 220 pounds Bronze Medal
1980 Olympic Greco-Roman Team Member (Moscow, U.S.S.R.) 220 pounds Boycott year